In Travel, Business & Incentives trade journal – Edition 2, 2018
Champagne Travel is specialised in organising trips and day tours in the Champagne region of France. We spoke with Hinke de Jong, founder and owner of Champagne Travel, about the possibilities that this unique French region offers.
"During a world trip around the Southern Hemisphere, I encountered wine for the first time in the Mendoza region of Argentina", explains Hinke de Jong. "I think that's where my love of wine started. That's when I decided to look for local vineyards wherever I travelled and try to learn more. From Argentina I travelled to Chile, Australia and southern Africa. Back in the Netherlands, I realised we also have incredibly special wine regions close by. I visited the Champagne region of France and was deeply impressed by the people, the peace, the activities and of course, its famous champagne. I've always been a fan of gastronomy and Champagne is the place to be as far as that goes: you can eat wonderful food and you encounter the most wonderful champagnes in an array of styles. It is a region full of surprises."
In 2011 De Jong established Brouzje and started importing and distributing champagne to individuals, business clients and restaurants. She soon decided to offer trips to the Champagne region. In 2016, the founding of the company Champagne Travel followed, and all Champagne travel activities were shifted to the new company.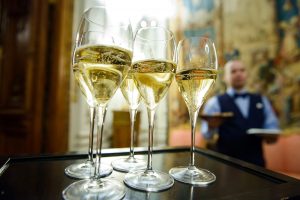 Prior knowledge is key

De Jong explains: "How do I make other people enthusiastic about champagne? First, I work out what prior knowledge they have. If people who don't know much visit a champagne producer, the explanation of how champagne is made can be too technical. So I like to give an introduction in advance, together with a tasting. This gives people some preliminary information and background which really helps when they walk into the champagne house or cellar door. Then they can more readily understand what's being explained about the production process and what differences there can be."
"Other groups arrive with a completely different level of knowledge. I recently organised a trip for a group of Dutch sommeliers who obviously have a completely different background. So you can imagine that there's much more detail and technicality. At Champagne Travel, we always endeavour to ascertain what someone already knows about champagne, and build on that."
"Personally, I still learn from every visit. There are many producers and wine houses in the Champagne region. And each has their own perspective and methodology. Despite the fact that the method of production is regulated, choices can still be made within the process. Climate change also has an impact, for example. Producers have to take this into account in order to continue making beautiful wines."
The purpose of the trip
The purpose of the trip is obviously also extremely important to the trips and day tours Champagne Travel organises. In the example of the Dutch sommeliers, the trip is educational in character, but that's just one possibility. De Jong: "We often organise trips for groups who want to visit a special destination (with accompanying program) with their team or company or groups who want to celebrate events. Business and private groups. We also organise weekends away for couples and groups of friends. Business groups of all types are welcome, including incentive trips, team building trips and meetings or trainings in the region.
Some groups just want to have a good time together without having too many group activities during the trip. So we might organise a fun party, good dinners and one or two visits to wineries. Other groups are intent on getting to know each other better, and want targeted and varied activities on location. There are plenty of possibilities there too. The trips we organise are always custom-made. Depending on the group's wishes, we provide a thorough, tailored quote. Naturally, this takes into account the size of the group and the budget. We strive for perfection, because we want to give everyone a unique experience."
"The trips and day tours that we organise in Champagne, together with the activity program, can be door to door trips, or separate activities as part of a trip. I've noticed that recently companies organise this kind of trip internally, but also that we offer added value in the kinds of activities we offer and our expert knowledge of the best restaurants."
Unique activities in Champagne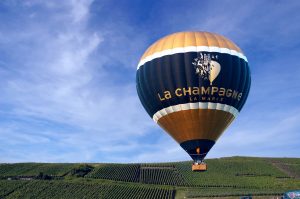 "Champagne is a magnificent region and offers an endless array of activities. For example, walking or biking through the vineyards, which we recommend doing from springtime through to the harvest, which is usually mid-September. You can boat on the rivers, take a hot air balloon ride or visit the city of Reims, with its cathedral which has played host to centuries of coronations. Or perhaps visit the abbey of Dom Perignon. We also regularly organise cooking workshops or gastronomic lunches at champagne houses. And of course, essential outings include visiting champagne producers and houses, combined with a masterclass or champagne tasting. Because actually tasting the champagnes is the most fun of all!", De Jong concludes.